OUR WEDDING ALBUM

Date: Saturday, March 11, 2000
Place: Cana Chapel, Faith Community Church (Raleigh) Memphis, TN
Florist: Holiday Florist, Austin Peay Hwy, Memphis, TN
Flowers: Iris (Tennesse State Flower) and the Yellow Rose (of Texas)
Cake: (Strawberry with Whipped cream & real fruit filling) Miss Muffins of Germantown, TN. EXCELLENT SERVICE & PRODUCT!!!!
Wedding Gown: JC Penneys, Memphis
Groom Tux: Cowboy's Corner, Mississippi
Photographer: The photographer and his wife were great fun and professional, but they worked for a lousy company. It was not an enjoyable experience as the service "after-the-sale" was unacceptable. I deeply regret having chosen his service. So, if you are hunting for a wedding photographer in the Memphis area and are curious as to who I used, email me......I'll tell you.
Reception: "Fargos", Ramill Road, (Raleigh) Memphis, TN
Band: "The Southern Edition Band"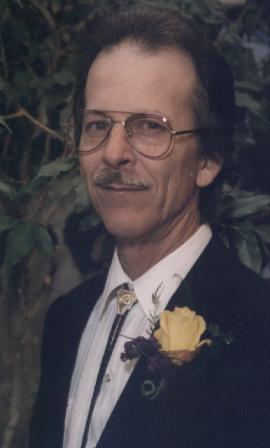 Bruce and I were married in Shelby County, Memphis, Tennessee, on what started out to be a wonderfully warm Saturday in March, 2000. During the day, I ran the gammit of chores of a "do-it-yourself" bride-to-be. Saved a ton of money, but it was a very fast-paced effort....which was comparable to running a marathon before saying "I Do". Still in curlers....my daughter and I picked up our dresses from the cleaners, picked up the flowers from the florist and delivered them to the reception hall of the tavern along with the party decorations, hand-made table centerpieces, balloons, and a quick peek at the wedding cake (which I had the bakery deliver). That cake was beautiful! After handing out the waitresses coursages and placing wedding-party gifts on perspective tables, and setting up a bar-tab for the wedding party; I paid the band.....and flew to the church with just enough time to get ready. Bruce kept his daughters (who drove up from Texas) company with running a few last minute errands too.....and was at the Chapel at 5:30 pm sharp for the pre-ceremony photo session. It remained in the 60's during the ceremony, but the tempature slowly dropped to the lower 30's and began to sleet. That's the beauty of Memphis weather . Naturally the weather changed our after-ceremony photo session around the outside gazebo. The Cana Chapel and the Revereend were the most elegant in all respect and was, in my opinion, the most perfect place to have my wedding. It sadden me to see the chapel burn down 8 months later, due to an electrical shortage. The chapel is being relocated and rebuilt from the ground up credited to the donations of its community.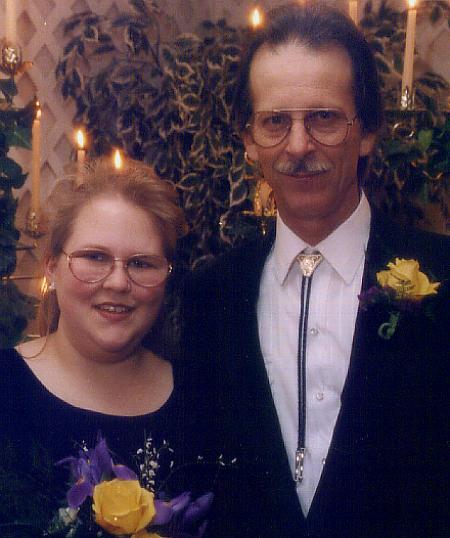 Bruce and my daughter, Gina.

Groom's Wedding Party: (Left to Right) Richard-Usher; Steve-Bestman; Bruce, and Mike, who gave the bride away (my father passed away April, 1996). I was very proud of these guys and could not ask for a better group of men. They were naturals....I was deeply honored. Aren't they a handsome bunch of cow-pokes! I lovingly refer to them as "The Allison Gang".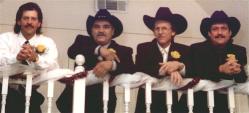 Bruce and his daughters: (Left to Right) Angela Gayle and Stefanie Faye, both of Ft. Worth, TX.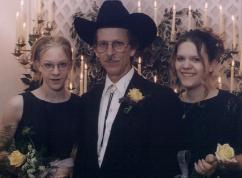 Bride's Wedding Party: Kelly-Matron of Honor, and daughter, Gina Marie-Maid of Honor. Two of my best friends in the whole world!

Since Bruce proposed to me in our neighborhood tavern, we hired "Southern Edition" a band with an awesome sound; that regularly played at the tavern in Memphis (Raleigh) and held our reception there. "Fargos" was perfect for us! It did not have the air of a tavern as the management and staff jumped in and made it a grand time for us .... they made it memorable. While we were at the ceremony, they decorated the whole place. Laid out the cake and arranged the tables to accommodate our reception guests. Our reception was the talk of Fargo's customers for a long time after that day......anyone that came in the doors was welcomed to cake and country dancing. Everyone had a great time. Management surprised us even more by fixing their marque-sign outside to read: "Congrats Bruce and Cheryl" They provided us with complimentary champagne and sincere friendship. The nicest bunch of people you'll ever meet!
---
We pray that you have happiness, peace, and being blessed in your life in finding the love that completes you.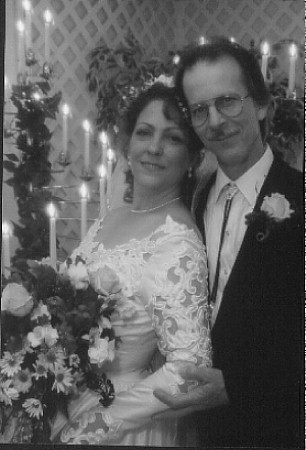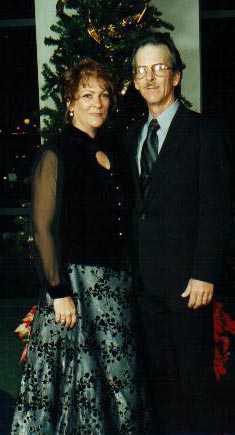 Bruce and Cheryl, Christmas 2000
Hebrews 11:1