OLD NEWSPAPERS FOUND IN ATTIC

c.1812 news phamplet found underneath attic floor board of old house in Corry, PA.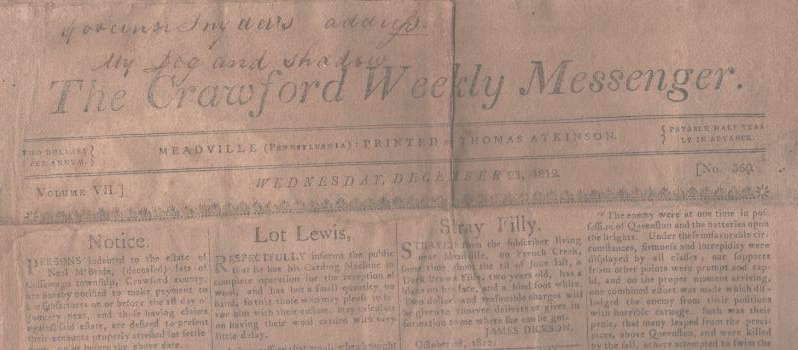 ---
STORY BEHIND THESE OLD NEWSPAPERS

My sister and her husband bought and planned to renovate an old house on King Street in Corry, PA. As they pulled up old floor boards in the attic, they discovered layers upon layers of old newspapers. It was apparent that the newspapers were being used as attic insulation from the cold winters of Pennsylvania; however, at some point in time, one of the home's previous owners floored in the attic - entombing the collection of newspapers. At best guess, the attic area is approximately 9'x6' and the wood used to floor in the attic is that of railroad timber. Looking down through the opening of boards that were pulled up, a large amount of newspapers were neatly layered 4" to 6" deep and as far as you could see.

Being curious, I pulled out handfuls of the newspapers and when I saw the dates, I couldn't believe my eyes! The date of one newspaper (above) was c.1812. Others were c.1840's, skipping years, on up to late c.1960's. I gathered up about 10 lbs of the newspapers and brought them back to Memphis, TN to read at my leisure.

Before I left Corry, I visited its Town Hall and inquired about the house. The curator said it would take time to research its history of occupants but did remember the house itself having some history in Corry. The house's former address was: 99 King Street but changed as more and more homes were built. For the most part, the house served as someone's residence but was turned into a "bed & breakfast" for the early railroad workers (possibly mid-c.1940's). There is a c.1814 cornerstone marker on the house. The street in front of the house is laid in brick and the same bricks are found around a tree in the front yard as a retaining wall-planter with overgrown, cascading english ivy. Most of the homes in the neighborhood are mainly older homes with elderly occupants.

I am hopeful that I can get more information as I further my research. I'll post my findings on these newspapers, the house and its history, and its early occupants.
---
After I got back to Memphis, I contacted the Smithsonian and described what I had in my possession. They weren't the least bit interested. I am currently contacting the Corry Historical Museum for assistance.

Sadly, the time-forgotten newspapers are slowly turning color and their paper edges are flaking off due to the elements of the south, handling and being disturbed after all those years under the protection of the boards in a cold, dark and dry condition of that attic. So there lies my mission.....to find out who (over the years) lined that attic with those papers. Post as much information from these newspapers as I can and hope to donate them to the community of Corry.
---
As I read these newspapers, I often wonder......"Did the newspapers actually get laid there in the year of circulation after it was read or in later years?" "Did the next door neighbors contribute to the paper-insulation of the attic?" or, ..."were these newspaper someone's forgotten collection of the past?"

These newspapers haunt me. I am certain that they are a rare find as they have proven to be very special reading. I'm in awe of the history it holds for this reader. It would be a shame if I did not share them with you, so to the best of my ability, I am in the process of scanning and/or retype what articles I find of interest, muse or of historical value.
I have INDEXED the newspapers and listing the headlines from each of them. Here are just a few articles that I have found:
our early Presidents were alive and in office (their speaches; their deaths)
public obituaries;
cartoon comic strips (funnies);
land sales; auctions
slavery;
commodities of the Union; State affairs;
businesses; classified ads;
stray livestock
early rail and covered wagon travel; new frontier, pioneer and indian battles and events;
announcements of States joining the Union;
cargo and passenger ship arrivals; naval victories; mutiny; pirates
Europe events; The Queen's affairs;
Senators; Legislature; House and US Circuit Court activities and reportings
Historical events; history in the making
Civil War announcements; general activities of the nation in those days, etc.
Local news re: Corry, Erie, Meadville, Pittsburgh, New York and surrounding areas of local interest, society events and obituaries.
For me, as a geneaologist, the ethics of this hobby is in the sharing of my interest and research, and to authenticate my findings. These are the actual newspapers from which I have based and created these site pages; to further list my findings from the years of history reported and contained in these newspapers. If you have a particular interest in an aritcle for any of the newspapers and wish for me to expand on it for you, please refer to the issue and article of your interest in your email to CatzWilson@hotmail.com

It is my hope that I will post something that someone will find useful, of interest, or, of news about someone that is a part of their hertiage.
---
NOTE: To the best of knowledge, the house is still located on King Street.
---
I am constantly updating this site, so please check back often.
---
Return To "Beasley~Harper~Shoemaker Family Records"
---